THE OPTIMIST: Freeman's On Target
October 13th, 2011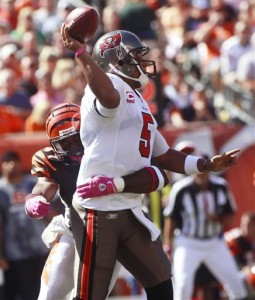 You've all read THE PESSIMIST, who spews his Bucs-related anger like no other. But Joe also brings you THE OPTIMIST. 
THE OPTIMIST is Nick Houllis, a Bucs fan and an accomplished writer whose steadfast allegiance to the Buccaneers goes back to the 1970s. Houllis is the founder, creator and guru of BucStop.com, a place Joe goes to get lost in time via Houllis' stunning video collection.
THE OPTIMIST will shine that positive light in your eyes. Some will love it. Some won't.
I work at a local restaurant (soon to be unemployed, anyone know who's hiring a kitchen manager?) and after the 2010 Super Bowl when the Saints beat the Colts, we had an awful lot of chicken wings left over.
"Super Bowl sales were down for the first time" was the report, as every year for the four previous years each Super Bowl Sunday resulted in an increase in wing sales from the previous Big Game.
But it turned out the wing sales were right where they were supposed to be. The year prior, the Super Bowl was in Tampa, and with all the local excitement of having a Super Bowl in our backyard, sales were inflated.
It holds true for the progression and expectations of our quarterback Josh Freeman. Many have the beleaguered QB "regressing" in his third season. All of a sudden, the pre-draft concerns are coming out of the woodwork again. 
The truth is, Josh Freeman is right where he is supposed to be for a third-year QB — if it weren't for such a spectacular 2010 season, where Freeman tossed an amazing 25 TDs to six interceptions. That was a record for a second-year QB and rightfully so; it's a great set of numbers for even a veteran signal caller.
So good that you can't help but expect Year 3 to be even better, but just like our wings situation, if you take out the incredible number, the end result of growth in the third year is exactly where it should be.
Wings Cases Sold
2006  10
2007  14
2008  17
2009  29
2010  23
Year 3 in the Josh Freeman Franchise project, he is still learning and doing the things he is supposed to in his third season of growth. But our expectations of Freeman, and perhaps the Bucs in general, is that there should be growth from last year year when that may not always happen.
Of course, a win cures everything. We were still amazed with Freeman and the Bucs after their comeback over Minnesota in Week 2, even Ronde Barber had a career day last week in the win over Indianapolis.
Yet how many people after Sunday want Barber to retire because he looked too old. In truth, the whole team looked guilty of not being ready, and when every single player and facet of the game is played so poorly, you can't do anything but look forward to the next game and write it off as an aberration.
As long as it doesn't happen again!