Talib Talks T-Jax
October 16th, 2011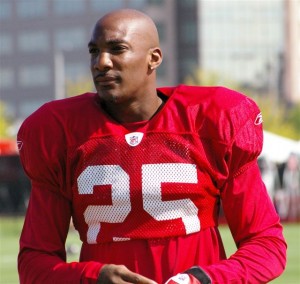 The comeback of Tanard Jackson still amazes Joe. What an unreal physical and mental challenge. Joe had a man-to-blogger conversation with Aqib Talib after the Bucs-Saints game to get his take on Jackson's return.
JoeBucsFan.com: Tanard Jackson's on the couch and working out himself for a year and comes back and plays well against one of the best offenses in the league and even gets a pick. What does that say to you?
Aqib Talib: Man, he was out, but I assure you he wasn't on the couch though. He wasn't just at home on the couch, you know what I'm saying. He held up pretty good. He cramped a little bit at the end. While he was out he worked. He worked hard. And I know because half the offseason I was working with him. So he wasn't home on the couch.
Joe: Fans might be wondering what's the value of training camp and preseason when a guy can come back like that and perform at a high level? Does that mean training camp isn't as valuable as everyone thinks it is?
Talib: No. Everbody their own person. I'm sure he would have been in even better shape if he was in camp. So training camp is important. But everyone is their own person. You know I don't speak for everybody.
Joe: When you guys were working out through the lockout, what were you doing?
Talib: Just playing football, lifting weights, playing football. That's what we did. Football drills.
Joe: What sort of difference does Tanard bring back there? No slight on Corey Lynch, but what's different with Tanard in there?
Talib: They different people. They bring a different mentality to the game. Tanard's going to come down and he's going to hit you. He showed that tonight. He'll come down and hit you. He looked like he never left. He knows all the calls, knows all the run fits. He's a starter.