Quincy Black Made A Play
October 16th, 2011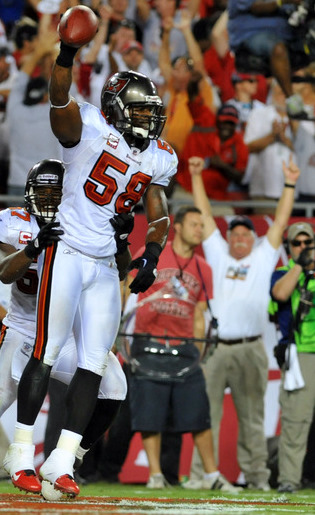 One of Joe's favorite stories about the greatest basketball team ever assembled, the 1984 U.S. Olympic men's squad, was when coach Bob Knight took the team on a barnstorming tour just prior to the Olympics.
Knight used these stops as both a scrimmage and a grueling practice, knowing that his backups were likely better than any other team in the world.
In a particular practice at an Indiana high school gym that seats over 10,000, Knight abruptly halted a practice after Oklahoma forward Wayman Tisdale had a defensive stop.
Knight had ridden Tisdale mercilessly throughout the practices for his lack of defensive hustle. In Knight's eyes, if one couldn't play defense, one couldn't play basketball.
Knight stopped practice and demanded someone bring him a magic marker. Knight walked to where Tisdale was standing on the court, knelt down and wrote on the basketball floor with the magic marker "Wayman Tisdale played defense" and wrote the day's date below.
That story raced through Joe's mind when linebacker Quincy Black picked off a Drew Brees pass late in the game in the end zone. It was a play that turned the game and all but sealed the win.
Joe just wanted to run on the field and spray paint "Quincy Black made a play."
Joe has been harsh on Black over the past few years. While people screamed bloody murder over Barrett Ruud not making plays, Joe wondered why the same standards were never applied to Black? Joe can think of four splash plays now that Black has made in not quite three seasons.
"It was man-to-man defense and Drew Brees doesn't make those mistakes that often," Black said of his interception, which was a drag route and Black was assigned to John Gilmore. "I was at the right place at the right time."
Black didn't seem to want to talk about the Bucs stirring win over the Saints. He surely didn't want to talk about the alley-beating the 49ers laid upon them last week when Joe asked how the Bucs made such a dramatic bounce-back in a week.
"That doesn't matter," Black said."We won the game today and we have a game in London next week that we have to prepare for that."
The defense rose to the occasion today forcing four turnovers and Black, for a change, was a big part of that at a critical time no less.
"To create turnovers at home, the crowd was going and it was an exciting atmosphere," Black said. "Glad to get out with a 'W.'"
Joe only hopes Black's play today is a harbinger of things to come.