Please Help JoeBucsFanTV Reporter Sarah Tyson
October 13th, 2011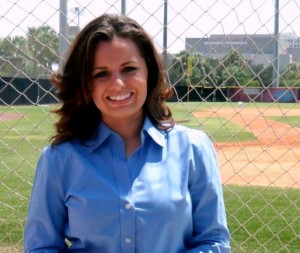 When last offseason Joe broke out JoeBucsFanTV, it was met with rave reviews. One reason was insight offered from Joe's good friends Justin Pawlowski of WDAE-AM 620, former Bucs quarterback Jeff Carlson and musings from NFL.com blogger Jenna Laine.
But the person who was the glue as both a co-host of the studio shows and reporter of on-site videos was none other than Sarah Tyson. As a result, Joe is confident his readers would want to help her, and see more of Sarah.
Sarah is a finalist to be the official host for the Beef O'Brady's Bowl held at the Fruitdome in St. Petersburg Dec. 20 pitting a team from Conference USA against a Big East squad.
Joe's readers can help Sarah, a former reporter for the Sunshine Network, secure this gig by voting for her. It's free. Just vote at this site.
Anyone want to guess who the official host of the Beef O'Brady's Bowl was last year? It was none other than Jenna Laine!
So let's keep up the streak and see to it another of Joe's friends gets the gig.
Joe, and of course, Sarah, thanks you for your support.