Peter King: Bucs No. 7 In NFL
October 3rd, 2011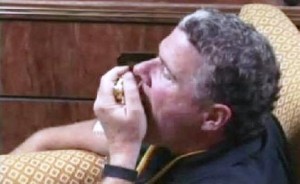 Oatmeal-loving, popcorn-shoveling Peter King, of Sports Illustrated fame, is out with his weekly rankings of NFL Teams and the Bucs have climbed to No. 7.
In his Monday Morning Quarterback column on SI.com, King predicts the Bucs to win 24-9 tonight, and it seems that win already is factored in to his ranking.
7. Tampa Bay (2-1). Still feeling their way, but I'd be surprised if the Bucs didn't rout the Colts tonight.
King's placement puts the Bucs fifth among the 11 teams with one loss. At first glance it might seem nuts to have the Bucs that high, but considering Detroit is undefeated and the Bucs punched out Atlanta, maybe it's on the money.
Boy, how could the Bucs pull off this kind of early success without Nnamdi Asomugha?