Numbers Geek Stressed Over Bucs Offense
October 7th, 2011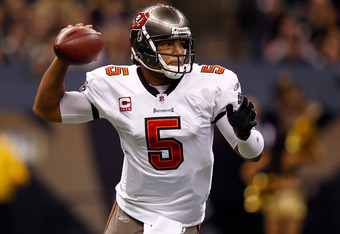 Joe has made it abundantly clear that he's turned off by the numbers crowd when it comes to sports. They have done their best to ruin Joe's enjoyment of baseball and thus far, fortunately, they have been unable to infest football.
Why does Joe hate the numbers crowd? Part of it has to do with nuns and rulers which Joe doesn't want to get into right now. Part of it is something Joe learned in high school that someone can take numbers and statistics and twist them in such a manner that they could "prove" Hitler is in the White House Hank Williams, Jr. is a tolerant soul of a political analyst.
So it was with a bit of enjoyment that Joe heard a numbers guy call "The Opening Drive" yesterday morning with co-hosts Bob Papa and Ross Tucker, heard exclusively on SiriusXM NFL Radio. Audibly shaken in his belief that the Bucs have abandoned the deep pass, and armed with an array of statistics, this caller wanted to know if it's the defenses the Bucs have faced that have taken away the long pass, or if Bucs offensive coordinator Greg Olson abandoned such plays.
Tucker, in short, wasn't buying what the stat guy was selling.
"First, coaches don't look at the game like you do. They look at each game as its own entity, like it's own version of a little season. Second, if Arrelious Benn doesn't step out of bounds Monday night, that skewers all of your numbers.

"Then you have to look at the defenses the Bucs played. Minnesota and Indianapolis play almost exclusively Tampa-2. Those teams shut off the long pass and give up the short passes. That's why you saw the Bucs dump passes over the middle to Earnest Graham Monday night. Those plays were there all night."
Tucker went on to say that the reasons the Bucs haven't thrown much downfield is a combination of factors, including how Bucs quarterback Josh Freeman hasn't been completely accurate in some games, how defenses have shut off the long pass for the most part, and how defenses are determined to lock up Mike Williams, thereby taking away the Bucs' best deep threat.