No Room On Bottom Of Bucs Roster
October 16th, 2011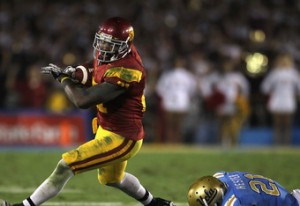 One of the more interesting developments of the past week was the Bucs releasing running back Allen Bradford, their 2010 sixth-round pick. Bradford gets the boot when the Bucs are thin at running back?
Recruited as a linebacker to the University of Southern California, Bradford had success running the ball in college and was a standout on special teams. But the Bucs didn't have enough space for him and Pete Carroll and the Seahawks claimed him off waivers and put him on the active roster. Maybe Bradford will be pals in Seattle with former Bucs defensive tackle Al Woods, who played quite a few snaps when the Bucs beat the Saints to close the 2010 season. 
It's just a growing trend of the Bucs getting plucked where they used to be the pluckers.
The Bucs have been paying top dollar to practice squad players to try and keep them around, and young castoffs are landing on other rosters more frequently. Sackless Kyle Moore and tight end Nathan Overbay are property of the undefeated Lions.
Time will tell whether the recent Bucs draft picks like Bradford and Ahmad Black weren't good enough for the league, or just not good enough for the Bucs.