No Broken Ankle For Gerald McCoy
October 10th, 2011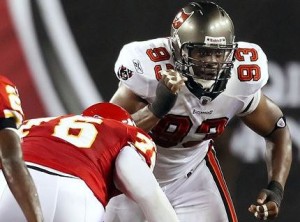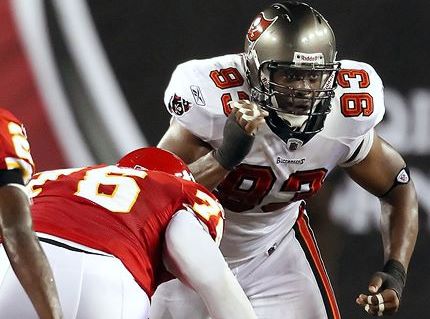 It wasn't a coincidence yesterday that when Bucs defensive tackle Gerald McCoy left with a leg injury, Frank Gore acted like Joe when he learns of free beer.
Gore went wilding on the Bucs, gashing the interior for chunks of yards on each touch of the ball.
Initially, Bucs officials feared a major injury to GMC as he stood on the Bucs sidelines in the second half on crutches wearing a boot on his injured foot.
No need to fret too much, reports Stephen Holder of the St. Petersburg Times. It seems initial tests of GMC's foot reveal no break.
It appears his ankle is not broken based on the early diagnosis. He likely has a pretty badly sprained ankle, however.
Thank goodness for that, but a badly sprained ankle doesn't mean GMC can play against the Saints Sunday.
GMC has really stepped up this year and has become an unquestioned leader of the defensive line, thought to be a strong point prior to yesterday's game.
Joe is of the belief that the Bucs will sorely miss GMC not being on the field.