Niners 48, Bucs 3
October 9th, 2011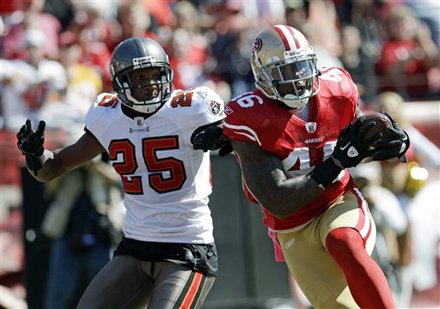 The Bucs got outhustled, outcoached, outmuscled, outplayed and outeverythinged today in San Francisco, crushed in all phases of the game. Another slow start but this time without the rousing finish.
It was putrid — Raheem Morris might call it "Yugly" — and really was the kind of performance that forces fans to doubt whether the Bucs are a playoff team. Even Raheem joined the stupid-penalty dance with a personal foul for chewing a referee's ear off on the sideline. (Nice punt catch, Myron Lewis.)
It's one thing for a team to completely fall apart mentally when a game's out of reach in the fourth quarter, but the Bucs completely lost it early in the third quarter.
Joe's not surprised the defense fell off noticably when Gerald McCoy went down with a heinous-looking injury, but their problems on defense went way deeper than that.
Most scary, perhaps, was Josh Freeman flashing back to 2009. And the playcalling is a big ol' headscratcher for Joe.
As always, Joe will have all kinds of takes out of this game. Keep coming back through the night.