Mike Williams Confesses To "Terrible" Play
October 13th, 2011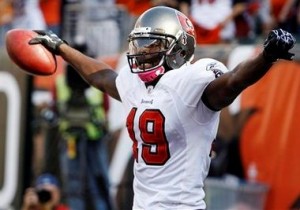 A lot of Bucs fans are wondering about the Bucs offense.
They point to quarterback Josh Freeman's struggles with accuracy thus far this season.
They point to LeGarrette Blount not getting enough carries.
Bucs receiver Mike Williams has a suggestion who fans should point fingers at.
Mike Williams.
Woody Cummings of the Tampa Tribune types a piece where he documents Williams claiming he is the reason the Bucs offense is not humming like last year.
"I'm playing terrible," Williams said Wednesday as he and the Bucs began preparing for Sunday's against the NFC South division-leading New Orleans Saints at Raymond James Stadium.

"From my aspect, I'm playing terrible. I should be doing a lot more to help my team win. I should be getting into the end zone. That's something I did last year. I was getting into the end zone and putting up points for this team. That's what I should be doing and I'm not doing it right now so I need to get it together. I need to step up."

Williams ranks third on the Bucs in receptions with 19 for 183 yards and a touchdown. After five games a year ago, he had 23 catches for 283 yards and three touchdowns.
Joe is of the mind that there are a variety of reasons for this. One is that during the asinine lockout, coaches throughout the NFL had nothing to do but break down tape, whether it was of college prospects or NFL players. Surely Williams must have surprised a few defensive coordinators. It's not a shock at all that opposing coaches spent many an hour this summer scheming ways to take Williams out of plays.
This has led Williams to learn to adjust. He's likely seeing defenses and coverages he's never seen before. Just like in baseball, football is a constant cat-and-mouse game of adjustments.
Third, naturally, Freeman is having accuracy issues this season. That doesn't help any receiver, much less No. 19.