Massive Fun And Free Cash At Derby Lane
October 1st, 2011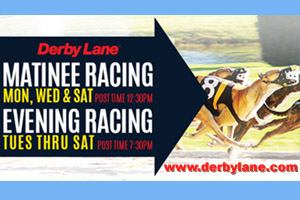 Where can you watch the Rays and college football, play poker, savor adult beverages, win $500 for doing nothing and watch live greyhound racing all at the same time tonight?
The answer is Derby Lane on Gandy Boulevard in St. Pete, one of Joe's favorite hangouts.
The track is open right now, and live greyhound racing begins at 7:30 p.m. And don't forget to enjoy the stunning buffet at the world famous Derby Club. Plus you can keep the action going all night with the smoke-free poker room open until 6 a.m.