Lovie Hasn't Evolved Old Tampa-2
October 21st, 2011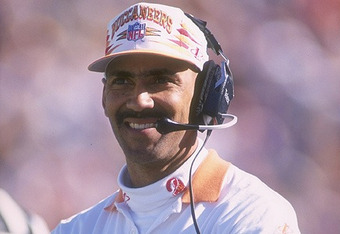 In an interesting story in the Chicago Tribune, Bears head coach Lovie Smith explains that he and defensive coordinator Rod Marinelli are stuck in in the 1990's when it comes to the Bears defense.
They think the legendary Bucs defense of that era doesn't need any tweaking, like Raheem Morris has done, with he and Ronde Barber nicknaming it the Tampa 2.1.
"It hasn't evolved, to me," said Smith, who joined Bucs in 1996. "We're running the same (defense) here that we started with initially there. Other people's version of it … it's not 'Tampa 2' or anything, it's something else.

"We were there on the ground floor. There were a couple of guys in the league when we started (who use it now). Rod (Marinelli) and I were the only ones, I think, who were there back then. So we're running the same defense."

Smith firmly believes in it, when executed properly. From 1997 to 1999, the Bucs ranked third or better in total defense thanks, in large part, to Dungy, defensive coordinator Monte Kiffin, Smith and the Cover-2 scheme. Then Smith went to the Rams as defensive coordinator and immediately transformed the Rams into the NFL's third-best defense using Cover-2 principles.
Joe suggests you click through and read the whole article.
Joe thinks the Bucs' offensive line, clearly a top tier pass blocking unit in the NFL, will do an excellent job against the Bears' rush, which is so critical to success in their defense. If Josh Freeman of last week — and last year — shows up, Joe' quite confident the Bucs can pick apart the Bears all day Sunday.
Lord knows Greg Olson won't pound Earnest Graham relentlessly on the ground.