Let The O-Line Earn Its Money
October 15th, 2011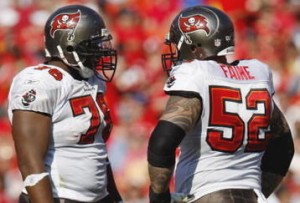 Joe hears doom and gloom from fans regarding Sunday's game against the Saints. But Joe thinks the Bucs could hang with the Saints Sunday if they only stay committed to the running game.
The Saints are allowing an average of 5.2 yards per rush this season, third worst in the NFL.
Think about that number for a moment. Throughout 2009, when the Bucs were gashed up the gut routinely, they allowed 4.8 yards per carry. In 2010, when things weren't much better, they allowed 4.7 yards per carry.
The point is, the Saints haven't showed they can stop the run. And the Saints got a gift in Jacksonville two weeks ago when the offensive coordinator over there decided to have Blaine Gabbert drop back to pass seven consecutive times to open the game. Blaine Gabbert! The Saints quickly got up by two TDs, and Gabbert finished 16-for-42.
The Bucs have got to let their high-priced offensive line earn its money and get a legitimate shot to control the game. Isn't that why they're paying those guys? Just pound it on first and second downs and see what happens.
At the end of the day, the Bucs' chances probably lie in Josh Freeman turning in a Pro Bowl-caliber performance, but that's going to be a hell of a lot easier if he can run on 3rd-and-short and the Saints defense is worn out in the fourth quarter.