How Interested In London Is Team Glazer?
October 20th, 2011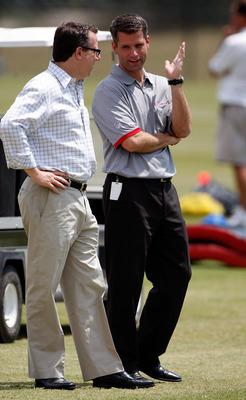 Pat Kirwan might be the busiest and best-connected NFL analyst in the business. The former assistant coach and personnel executive works for CBSSports.com and CBS NFL Today, hosts a show on Sirius NFL Radio, and writes regularly for NFL.com and more.
Speaking on The Miller and Moulton Show on 770 AM in Fort Myers yesterday, Kirwan offered a take on the future of the NFL in England. It's a topic and concept Joe loathes, but since the credible Kirwan mentioned Team Glazer possibly eyeballing a future overseas, Joe will share Kirwan's take.
"The NFL ultimately is going to put a team in London. I keep telling everyone that and they don't get it. I think the maybe Glazers one day will sell the Bucs and own the team in London," Kirwan said.

"I know this about the London fans. I talk to them a lot on my NFL.com chats. … They don't want anymore visiting teams. They're having a hard time selling this one out. Their message really isn't, 'We don't like football.' Their message is, 'Can we have our own team? We are not here to see an exhibition of two NFL teams. We want our own team to cheer for.'

"So that's coming to a head. And I think the NFL is very excited that it could come to a head and someone will go there eventually, maybe even Jacksonville."
Now Joe doesn't buy Kirwan's line of thinking on this. It makes no sense that Team Glazer would bail on the Bucs after having such rousing success with the team and the business operation, plus a long-standing commitment in the Tampa Bay community, and a cash cow of a stadium deal.
The NFL is cruising along financially, even during these challenging economic times. Why sell the Bucs and run to a massively risky proposition with a team in soccer-mad England? Again, it makes no sense.
But as plugged in as Kirwan is, why is he (and others) still tossing out theories of the Bucs and/or Team Glazer leaving Tampa. That's a head-scratcher for Joe.
What also would be a head-scratcher for Joe is if the Bucs end up playing annually in London as the "home" team, as many insiders have suggested. While this England trip seems to be a fantastic team-bonding experience (and the Giants won a Super Bowl the year they played overseas), Joe has to think that losing a real home game and traveling to London in consecutive seasons would get old for players in a hurry.