"Go Ahead And Lock Him Up"
October 5th, 2011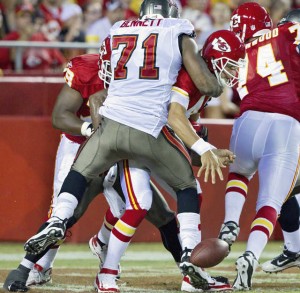 Don't just look at Michael Bennett's impressive stat sheet from Monday, says former Bucs defensive end Steve White, understand how dominant Bennett was throughout the game and his impact this season.
Speaking on Two-Hand Touch with Derek Fournier last night on WQYK-AM 1010, White shared thoughts about Bennett and explained why he thinks the Bucs would be wise to put a new contract in front of him soon.
"It was the way he was making these plays. I mean, [the Colts] are going to have nightmares about this dude, the right tackle, every tight end on the roster and even the running back. They're going to be like, 'Who is this guy?' I promise you," White said. "I mean he was jacking them up, throwing them all over the place. There was a play at the end of the game, man, where he doesn't touch the quarterback but it typified how dominating he was.

"They kept the tight end in. They had to start keeping Dallas Clark in, one of their best receivers, just to block him. He takes Dallas Clark up the field, comes inside of him and beats him clean. Then Joseph Addai is there to pick him up and he absolutely jacks Joseph Addai up right back into the quarterback. I mean, boom. And that was the kind of game he had.

"There's no better time to have that game then on Monday Night Football when everybody's watching. They need to try and lock him up now,  while his stock is still kind of low and you can kind of lowball him a little bit, throw a little bit of money at him and to him it would be more money than he's ever seen before. And go ahead and lock him up for four or five years. Because by the end of this season, I really feel strongly, that price is going to go way up."
White points out that Bennett has improved his handwork drastically and has not been blocked successfully by a tight end consistently all season. White also made the point that Bennett is a the kind of guy the Bucs should acknowledge financially because of how he's worked his way up from the bottom of the roster, in addtion to his production.
"You have to reward that. Everbody in the room sees it," White said.
Bennett turns 26 in November. This is his third season, and Joe's quite certain he will be a restricted free agent come February.
In Joe's mind, Bennett's not a guy the Bucs would sign long-term before he hits the unrestricted market. With Da'Quan Bowers behind him and another year of wiggle room, Joe suspects the Bucs would want to see Bennett force their hand after his body of work over 2011 and 2012. 
What's interesting is that if the Bucs youngsters keep performing and winning, then the team will be inevitably pushing the limits of the salary cap in about 17 months.