Decision-Making, Winslow, Talent Ailing Freeman
October 24th, 2011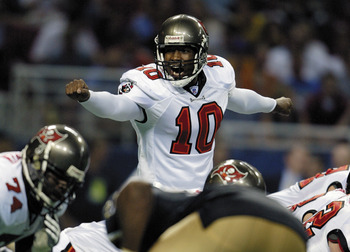 What's wrong with Josh Freeman?
Former Bucs signal caller Shaun King weighed in with some answers this afternoon on WQYK-AM 1010. And there were multiple reasons offered.
In no particular order, reason No. 1 is Kellen Winslow.
"That's an issue. The dynamic of the relationship between Josh Freeman and Kellen Winslow. … How many picks are forces to Winslow?

"I'm telling you as a former quarterback, when that guy's in your ear, saying 'Give me the football,' that plays a part," King said.
Reason No. 2: the Bucs don't have the talent around Freeman.
"They threw 51 passes and no wide receiver with 100 yards. Nobody with 80 yards,' King said. " We averaged 5 yards an attempt. That's something an option team does throwing to its fullback.

"They don't' have the dynamic playmakers. … Yesterday was the perfect example of what happens when they try to be a throw-first team."
And King's reason No. 3 is perhaps the most troubling.
"The decision-making is really starting to worry me. I don't see a guy in his drop that's really diagnosing the coverage," King said. "For whatever reason it's not happening. I don't see a whole lot of reading coverages. … I don't see a lot of seeing holes in the zone. I see a guy who's deciding in the huddle, 'I'm throwing the ball here.'"
Maybe it's easy to say King doesn't know what he's talking about when it comes to his takes on Gerald McCoy, but surely not about Freeman. And King has said on air multiple times that he secures and watches coaches film for Bucs games.
Regardless, Joe buys in to what King is saying except the talent aspect. No, the Bucs aren't loaded with Pro Bowl explosive players, but there was more than enough talent on the field for Freeman yesterday to beat the Bears and stay in first place en route to a playoff berth.