Corey Lynch Damned Near Turned Game Around
October 23rd, 2011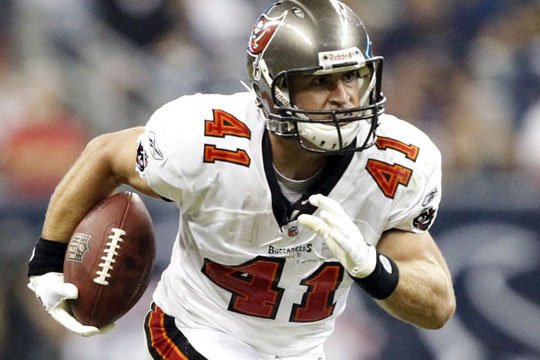 Corey Lynch is a good dude. Does that make him a starter in the NFL?
It was telling to Joe that a guy clearly not in football shape who hadn't practiced in an organized scrimmage with the team in over a year came in and started two games (and pulled his hamstring).
That tells Joe how thin the Bucs are at safety.
Corey Lynch is one of the better special teams players in the NFL. Pressed into duty again today when Tanard Jackson went out with a hammy, Lynch was able to make a couple of plays, one an interception that set up a Bucs touchdown and another a deflected pass that saved a touchdown.
Lynch spoke on the Bucs radio network about his play and the ugly Bucs loss to the Bears.
On his interception, "our d-line got a good rush on the play and [Bears quarterback Jay] Cutler got the ball off later that he thought and I was able to jump up and get it," Lynch said. "We didn't have much rolling until then. I'km glad I was able to start a spark.
"The reason why the Bears were able to run on us so early was they were pulling blockers and getting to us and sealing us off."
On his deflection of a pass late on the goal line that would have been a Bears touchdown, Lynch said, "We were trying to blitz Cutler to get him to throw ahead and I should have made the play [interception].
"Coach said to us after the game 'Don't blink. We have a long season."