Arrelious Benn Not Part Of Three-Receiver Set
October 27th, 2011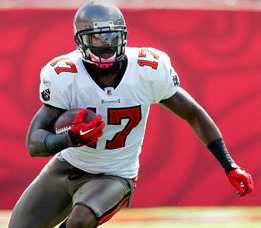 Joe may have been first Sunday — even before Bucs players had a chance to wash the stain of the loss to the Bears away — to notice one glaring void.
The Bucs had to play catch-up, after yet again hitting the snooze bar too many times before they finally rolled out of the rack and realized it was the fourth quarter.
In this catch-up, hurry-up, gotta-score-points offense, perhaps the Bucs most dynamic receiver this side of Mike Williams, Arrelious Benn, was nowhere to be found.
Actually, that last sentence is inaccurate. Benn could be found on the Bucs bench.
Joe asked right away why Benn, a second-round pick last year who has made the biggest plays on offense this season, was standing along the sidelines watching the game just like the blokes in the English crowd paid to watch?
It seems we have an answer, by way of Stephen Holder of the St. Petersburg Times. It seems when the Bucs go to a base three-receiver set, Benn is not part of such a package.
"When Earnest (Graham) went down, we only had one back," he said. "Then (fullback Erik) Lorig got hurt. So, then our base personnel was kind of out of the question. We had to go with our three-wide receiver set. Briscoe is the starting Z (that's the flanker) in that (lineup). You put the best guys on the field and try to come away with the win. We left a couple of plays out there on the field. But we have to regroup and take this bye week to take a rest and start all over again."

That was pretty much all he had to say on the subject, so I'll take it from here. The Bucs, like every team, use a number of different personnel groupings on offense and defense. When the defense, for example, goes to a nickel package, its defensive-line combination is different than the lineup used in the base defense.

The same concept applies here. The Bucs, when using a three-wide receiver set, use Briscoe as the starting flanker. When they're in their base package, which they use most often, it's Benn. As Benn said, however, Sunday's injuries forced the Bucs to move away from their base personnel because they did not have the ability to use their two-back sets.
Now the question needs to be asked: Why exactly is Benn not part of this package? Does he lack the skills to be in such an offense, is he not running crisp routes? Does offensive coordinator Greg Olson believe Benn isn't one of the better receivers on the team?
Numbers show that Benn is a dangerous weapon. He's averaging 16 yards a catch and nine yards after a catch, which is damned good.
Nothing against Preston Parker or Dezmon Briscoe, but what's the deal with Rejus on the sidelines?