"Unacceptable"
September 11th, 2011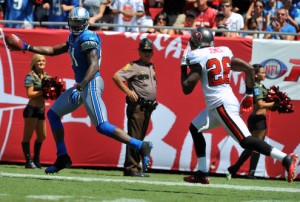 Simply put, the Bucs defense, specifically against the pass in the first half, was unacceptable.
Matt Stafford had damned near a career year, all in the span of 30 minutes on the field of The CITS. He looked like a high school quarterback in a seven-on-seven summer passing league.
"Unacceptable: is not coming from Joe's fingers, that's from Bucs rookie defensive end Adrian Clayborn.
Clayborn is a proud man from a proud, successful football program where losing is, in the words of George S. Patton, "hateful."
Clayborn, was not calling out his own teammates, but critiquing his own play.
Whether it was Nate Burleson or Calvin Johnson or Brandon Pettigrew, Stafford looked like he was playing catch with Lions receivers in a back yard.
At that point in the game, it seemed about the only guy playing well for the Bucs was Clayborn. He got pressure on Stafford a few times — the few times the Bucs ever got heat on Stafford — and Clayborn was strong against the run.
Not good enough, Clayborn said after the game.
"I did alright man, but I missed too many tackles," Clayborn said. "I missed four or five tackles which is unacceptable. But I'm going to learn from this tape; we're all going to learn from this tape and we are going to get after it next week."
One of the reasons Stafford was carving up the Bucs secondary was that he had many two- and three-step drops where Bucs defenders never had a prayer of breathing on Stafford because there was no chance for coverage sacks due to the fact receivers were running Scot free in the secondary. Even Clayborn noted his frustration at the two-step drops by the Lions third-year quarterback.
"Everything is for real now, everything is for Ws," Clayborn said. "I think we were well-prepared. I think we had a good game plan."