So Where's That Third Down Back?
September 11th, 2011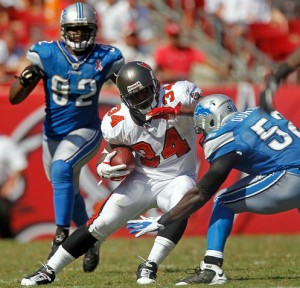 Yeah, until late in the fourth quarter, the Bucs offense was pretty much dismal.
At one point in the second half, the Bucs had a second-and-one situation and after two runs, couldn't get a first down.
Sure could have used a third down back.
In the offseason, Bucs rock star general manager Mark Dominik, when given a chance, hyped Kregg Lumpkin as the Bucs answer to the void left by Cadillac Williams leaving the Bucs for the Rams and tried to soothe frayed nerves that Lumpkin would get the job done.
This is the same Kregg Lumpkin that Packers general manager Ted Thompson, widely regarded as one of the best talent evaluators in the NFL, let walk despite having a shallow corps of running backs.
So let's look at what happened today:
Lumpkin had one catch for nine yards — not bad — but zero carries.
Williams, in a 31-13 St. Louis loss to Philadelphia, had 19 carries for 91 yards and five catches for 41 yards.
Was letting Williams walk to St. Louis being penny-wise and pound foolish?