Shaun King Says Bucs Finish 7-9
September 8th, 2011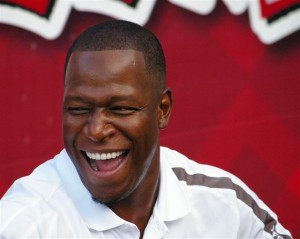 You could hear the agony in former Bucs quarterback Shaun King's sullen voice today. The man even prefaced his latest prognostication with a story of how he's rooted for the Bucs since the days of his youth in St. Petersburg when he snuck out of church to go to games because they were blacked out.
After much study, King said, he predicts a 7-9 finish for the 2011 Buccaneers.
"This is very hard for me," King said today while co-hosting The King David Show on WQYK-AM 1010.
King said the Bucs have "no dynamic playmakers to beat some of these opponents." And King went on to say the Bucs' defense is not ready to hold up at a winning standard.
"I tried to get it to 8-8; I couldn't do it," King said of his analysis of the schedule.
For those who listen to King, this comes as a bit of a surprise. He might have been the only local media member to call a winning record for the Bucs last season at this time. Joe knows King takes his study of the Bucs seriously. And King has spoken on his show of watching coach's tape — not DVR/VCR stuff —  of many recent Bucs games.
Joe sure wishes he could be a fly on the wall when Raheem Morris hears of this.