Raheem Won The Gamble
September 18th, 2011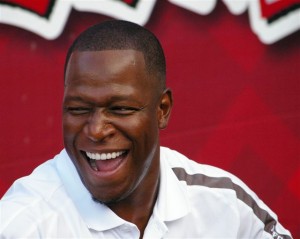 It was quite a ballsy call for Raheem Morris to go with the onsides kick call after LeGarrette Blount's 27-yard touchdown rumble put the Bucs on the board and cut the Vikings lead to 17-7.
If Elbert Mack doesn't dive on that ball, the momentum the Bucs had finally wrestled back would have almost vanished. But Raheem pulled the trigger and the Bucs won the gamble. Sure, Josh Freeman tossed an ugly pick in the end zone a few minutes later, but it was a key play in the game and adding to the Bucs momentum and confidence.
On that note, the Bucs' special teams have been pretty darn stellar over the first two games.
Rich Bisaccia who?