Raheem Will "Shoot You Straight"
September 22nd, 2011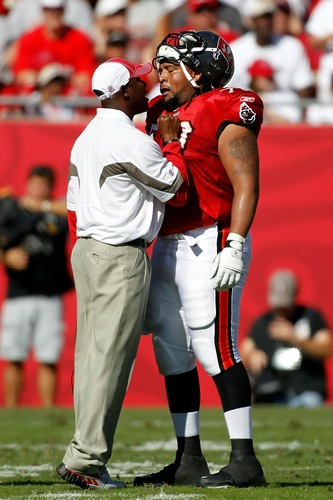 Maybe no Buccaneers players bitch and moan about Raheem Morris. Or maybe none is foolish enough to do it within earshot of Josh Freeman.
Regardless, Freeman painted an extraordinary picture of teamwide devotion to Raheem Morris during the The Josh Freeman Show last night on WDAE-AM 620.
"It's crazy, you know. We talk in the locker room. Guys talk about all different things. Guys got complaints. But I can honestly say I've never heard anybody say anything negative about Coach Raheem. Never," Freeman said.

"A lot of people don't see the whole picture. I mean, people hear about Raheem, how the players love him, and they automatically think this guy's a pushover, a player's coach. But that's not Raheem at all. You know, Raheem keeps it real 100 percent of the time. If you're messing up, Raheem's going to let you know. And he'll let you know in a big way, a way that kind of humbles you.

"That's what I think guys really respect about him. They respect that he's going to shoot you straight. He's going to be completely honest. And you might not like what you're hearing but he's not going to tell you something something just for the sake of telling you."
It's awesome that the players love Raheem. But they're going to have to start performing mentally and physically for 60 minutes every week, otherwise Raheem won't be around to love in 2013.
Joe's just doing his best to "shoot you straight."