"Playcalling Was Atrocious In The First Half"
September 14th, 2011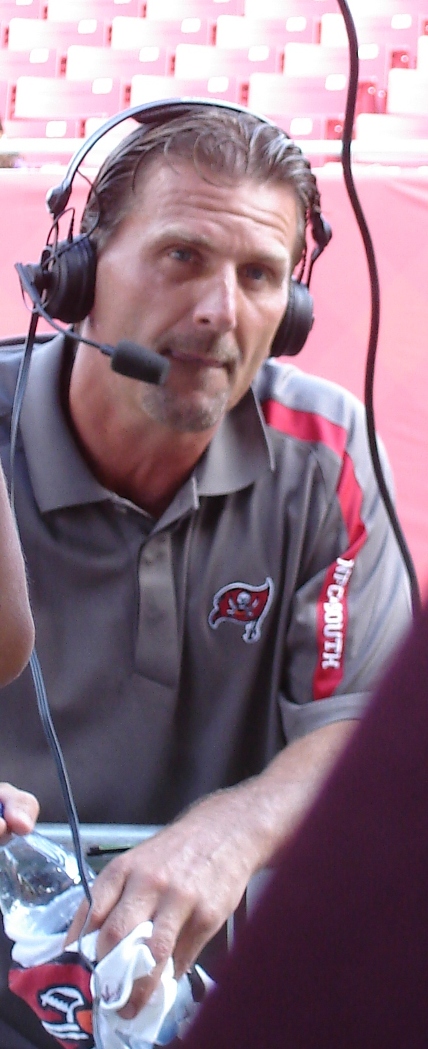 Joe's really loving "Steve White Unplugged," actually known as the Two-Hand Touch show with Derek "Old School" Fournier on WQYK-AM 1010.
White, the former Bucs defensive end, gets all the time he could want to break down all things Bucs on Tuesday nights. It's sort of his famous, yet now defunct, Bull Rush column on the radio with passion and personality thrown in. You can listen to the show archive at WhatTheBuc.net.
Here's what White thought of the sputtering, disjointed Bucs offense as the Lions dominated the opening 30 minutes Sunday.
"Our offensive playcalling was atrocious in the first half. "We don't really have, or at least in the first half we definitely didn't have, an offensive identity as far as running the ball. Our best running plays are counters and Power Os. We ran one the whole first half. Then, you know, we're trying to trick them and influence them and this and that, and that's really not our game," White said.
"Unfortunately we don't have some of the weapons they do have, like Calvin Johnson. We do have a very good tight end. I don't think we featured him enough in the first half. We do have a great receiver in Mike Williams, but we tried to run him on fade routes every time … It was frustrating to watch, because, no, we don't have the offensive firepower that the Lions do. But I thought our offensive line blocked well. I thought we had plenty of opportunities. But the playcalling was just atrocious in my opinion.

"There is no reason why you're not running quick slants for Mike Williams all the time because he's such a good run-after-the-catch guy. Even if he catches those fade routes, most of the time he's going to get tackled right there or he's going out of bounds.

"Give him those quick slants. Give him dig routes, some quick outs and let him run after the catch. … Last year, he had so much success with it, yet you didn't really see it much at all [Sunday]."
White also went on to say he was disappointed to not see the Bucs work Kellen Winslow over the middle of the field.
Joe also would give the playcalling a failing grade. It would be hard not to, even over 60 minutes. Five touches for LeGarrette Blount won't win the Bucs games anytime soon. Yet after all that, if Josh Freeman doesn't throw a bad pick (not Greg Olson's fault) and Luke Stocker doesn't impersonate Michael Clayton, the Bucs probably send the game into overtime or win outright. 
There was no quit in the Bucs.
Tomorrow, Joe will lay out White's powerful Week 1 takes on Gerald McCoy and Quincy Black.