One Catch And Negative Yardage For Williams
September 19th, 2011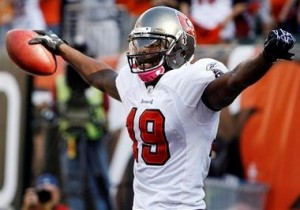 Joe's not sure how the Bucs still can't complete a slant pass to Mike Williams or get him in a position to run after the catch.
Should it be this challenging?
Williams had one catch yesterday, an ill-called wide receiver screen that blew up and lost four yards, though he caught a gorgeous touchdown just prior, which was negated by Arrelious Benn's illegal shift.
Joe doesn't have access to coach's tape, but Joe would be interested to see what kind of double teams, if any, are coming Williams' way. Pat Kirwan and Tim Ryan of NFL Radio talked a lot during the preseason about how much attention Williams would get this season and how other guys would have to step up as a result.
There's a reason Williams' NFL peers voted him the 80th best player in the league via the NFL Network Top-100 feature. The Bucs have to make sure gets touches.
Joe never would have believed the Bucs could score 24 second-half points yesterday — all on offense — without Williams making a play.