No Practice Thursday For Quincy Black
September 22nd, 2011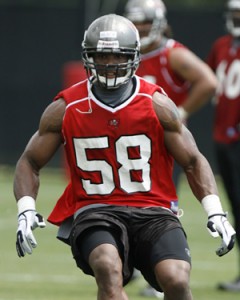 The likelihood of Quincy Black sitting out the Bucs-Falcons game Sunday has increased. Yes, Joe knows legions of Bucs fans like the sound of that.
Good guy Joe Smith, of The St. Pete Times, says Black is still nursing his injured ankle.
Bucs starting strongside linebacker Quincy Black did not practice again Thursday, making his status for Sunday's game all the more doubtful.
Raheem Morris made it clear yesterday during his news conference that he wasn't about to abandon Quincy Black after a couple of bad games. But, of course, that doesn't mean the Bucs won't let Black take time to recover fully.
Based on Black's play over his career, Joe would prefer Black get healthy before returning. The mere thought of Black playing at anything less than 100 percent is enough drive to Joe to shots of Southern Comfort.