"He Does What Raheem Wants To Do"
September 15th, 2011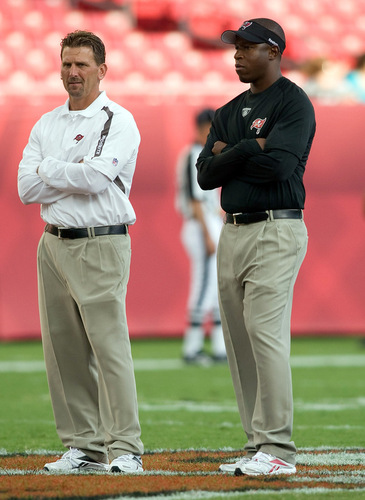 Every wonder how much Raheem Morris is involved in the offense?
Josh Freeman offered some insight during The Josh Freeman Show, hosted by the dean on Tampa Bay sports radio, Steve Duemig, on WDAE-AM 620 every Wednesday. The show was dynamite last night, as Duemig, the new host this year, is a far better interviewer than Scott Ledger and Freeman clearly has established a comfort zone.
Freeman outlined a chain of command for the crafting of the Bucs gameplan.
Steve Duemig: Do fans get too caught up in saying, 'Well, they only had 15 rushes for 30 yards. And. oh, it had to be the offensive line is the problem?

Josh Freeman: We had 15 rushes, you know, and four of which were mine.

Duemig: And you were the leading rusher.

Freeman: Yeah, We really just didn't stick with the running game.

Duemig: That's not your call.

Freeman: That's part of the gameplan. That's way above me, you know. I manage the game. I run what Coach Olson calls, and he does what Raheem wants to do. But no, we're going to run the ball. With that O-line, with LeGarrette Blount. We're going to run the ball.
Surely, it's no shock that Raheem has a heavy hand in the offense. But that's awfully tough duty given that Raheem is managing and mentoring a load of young players and filling the role of defensive coordinator.
Obviously, the Bucs were a top tier offense for the second half of the 2010 season, so the formula can work. But after the gameplan missed the mark Sunday, it's interesting to wonder whether Raheem could use another coach to help him prepare, a second defensive coordinator perhaps, and lighten his workload.