Greg Olson "Stubborn With The Run?"
September 24th, 2011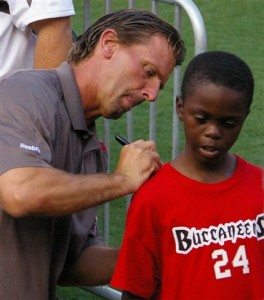 Trent Dilfer has pored over Bucs game film and determined that Greg Olson is an underrated offfensive mastermind, so he claimed in a BSPN.com story tucked behind the cloak of paid insider content.
Perhaps Olson is an emerging genius, but one reason Dilfer offers is Olson's commitment to pounding the rock. Huh? This caught Joe's eye, since Olson hasn't felt like that kind of guy during his tenure.
"Greg Olson, offensive coordinator, Tampa Bay Buccaneers

"… … This  reminds me of Olson, who uses similar formations over and over, but employs new little wrinkles that make what Tampa does deceptive and difficult to prepare for.

"He also has two other traits from the list above that are great.  He's very QB-driven and builds great protection schemes that have  helped Josh Freeman develop faster that many thought he would. He has integrated young wide receivers such as Mike Williams and Arrelious Benn quickly. Lastly, he is stubborn with the run. Even when the blocking is so-so, he got LeGarrette Blount his touches last year, and it paid off. He has continued that in 2011, and the winning drive against Minnesota last week was a classic case in point, as he pounded Blount successfully because it was working,  even when you'd assume pass was the call. I love what Olson is doing."
Interestingly, on The Jeff Faine Show on WQYK-AM 1010  last night, Faine told a story of how he, offensive line coach Pat Morris and quarterback coach Alex Van Pelt hustled over to Olson at halftime of the Bucs-Vikings game to demand that he stick with the running game.
Would they do such a thing if Olson was "stubborn with the run" as Dilfer claims?
Faine didn't say what Olson himself wanted to run or what his response was. But Faine said he was asking for the run call that brought LeGarrette Blount's first touchdown.
"We could tell we were wearing them down," said Faine, who added he was "proud" the coaches had "the courage and guts" to stick with the gameplan.
Olson has done some great stuff with the Bucs offense, but Joe would hardly call him a run-first guy.