Come Back Through The Night
September 25th, 2011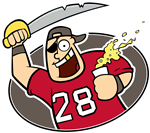 Just a quick programming note for those new around here.
Joe's at the Bucs game today and will be banging out all kinds of postgame takes and locker room reaction from players. So come back through the night for loads of interesting stuff.
During the game, Joe will have his popular open game thread for those who want to interact while the Bucs and Falcons slug it out. And, of course, Joe will post inactive players here and some pregame stuff later.
Hopefully, Joe will celebrate a Bucs win tonight with a frosty beverage!