Cody Grimm Out For The Year
September 27th, 2011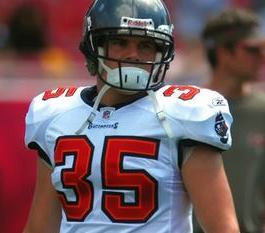 For the second time in his short two seasons in the NFL, Bucs safety Cody Grimm was placed on the injured reserve list by the Bucs, effectively ending his 2011 season.
Grimm suffered a right knee injury in the third quarter of the Bucs win over the Dixie Chicks and, thus, his season is over, so reports Rick Stroud of the St. Petersburg Times.
The Bucs placed Grimm on injured reserve Tuesday with a right knee injury he sustained in the third quarter of Sunday's 16-13 win over the Atlanta Falcons.

Grimm was injured making a tackle of Falcons running back Michael Turner. It appeared that Grimm's right knee may have struck the helmet of linebacker Geno Hayes, who suffered a concussion on the play.
This is sad for Grimm. Not just for the obvious reasons but one has to wonder about his future in the NFL. In less than a year he's had a broken left leg and now a blown right knee.
And no, the NFL has not released any update on Tanard Jackson's application for reinstatement, provided he has applied for reinstatement.