Adrian Clayborn Plays "Borderline Illegal"
September 27th, 2011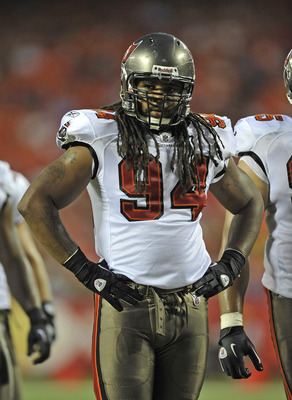 It was just one game of greatness from the defensive line against Atlanta, but it's certainly fun to dream about what could be coming next.
Raheem Morris is among those fired up. And he's high on the leader of nasty along the D-line, Adrian Clayborn, so he explained on The Raheem Morris Show last night on WDAE-AM 620.
"We're talking about developing that meanness and toughness up front, playing hard, physical, borderline illegal. That's what [Adrian] Clayborn brings to us," Raheem said. "He brings a nastiness that's only been around with those old school Buccaneers, taking about Sapp. He certainly brings that to the table. And he's developing his room. That's why I call him the Boy Dog. He's a one-man wrecking crew. And I love everything he's doing up there up front."
Joe assumes a Boy Dog means some sort of relentess animal-like, half-man-half-dog beast of a football player.
With Brian Price and Clayborn, the Bucs have a couple of guys on the line that can really lead by example. Clayborn's motor is extraordinary, and Price's work ethic off his injury almost has him in Cadillac Williams territory.