"A Little Bit More Of A Committee Approach"
September 7th, 2011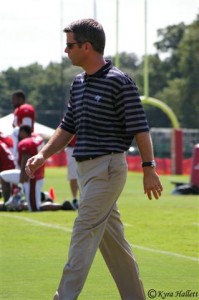 Rockstar Bucs general manager Mark Dominik enlightened NFL fans across the country today via a long chat on ProFootballTalk Live with Mike Florio.
There were interesting nuggets but nothing too revealing from Dominik. You can hear the entire interview here.
Answering a question about available salary cap space, Dominik said "in time" the Bucs will sit down "with a couple of our players and talk about a contract extension."
Also, Dominik said "you'll see a little bit more of a committee approach" at running back in 2011, explaining that LeGarrette Blount was impressive in a third down role during preseason but Earnest Graham and Kregg Lumpkin will their share of action.
Joe's not seeing Lumpkin getting many carries, but perhaps that's just wishful thinking.