Tim Ryan Upbeat About The Bucs
August 18th, 2011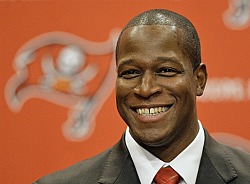 There was a lot of national media types out at One Buc Palace this week to do features on the Bucs and as Joe has documented, two of them were Pat Kirwan and Tim Ryan who host "Movin' the Chains," heard exclusively on SiriusXM NFL Radio.
The duo spent much of Tuesday interviewing players and coaches and executives learning every little nugget they could about the 2011 Buccaneers. Ryan, the former Bears defensive lineman, came away nearly giddy over the Bucs chances of making a run to the postseason this fall, so Ryan Twittered.
@TimRyan99: Love Raheem Morris. Bucs fans get your buts in the seats and support a quality team. Get on now, there may not be room soon
Joe will have much more from Ryan later as he graciously spent time with Joe Tuesday and gave a six-minute interview that Joe has yet to transcribe (whew). There's some good stuff in this interview including why Ryan thinks Kellen Winslow will blow up this year, and what Bucs player will be responsible for Winslow having a Pro Bowl season (other than Josh Freeman).