The Struggles Of The Offensive Line
August 31st, 2011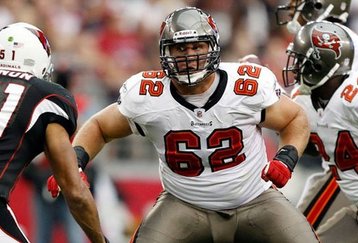 Through three preseason games and watching training camp, Joe has gleaned this much from the Bucs:
* When healthy, the Bucs defensive line could be formidable.
* The Bucs have a glut of reliable receivers.
* The offensive line is still, well, skittish.
The Bucs offensive line, which seemed to be on the cusp of greatness in the final year of Chucky and Bill Muir, at best struggled for roughly a year and a half later.
But in the second half of last season it seemed the Bucs offensive line finally got it. It finally was a strong unit, blasting open holes for LeGarrette Blount and on occasion, Cadillac Williams.
But this season, it seems like groundhog day. The Bucs offensive line has struggled, and eye-RAH Kaufman of the Tampa Tribune has not lost sight of this.
In a recent TBO Bucs question-and-answer offering, Kaufman professed the O-line has been less than stellar, in so many words.
Q: What's up with the offensive line? It looks like the weak link. No holes for the runners and no protection for Josh Freeman.

Richard, Valrico

A: The offensive line has looked very erratic through the first three preseason games. The running game hasn't been productive and Josh Freeman is having trouble staying clean, but there is time to improve before the Lions come to town Sept. 11. At this point, new OL coach Pat Morris has to be concerned about his first unit.

– eye-RAH! Kaufman
Simply put, the offensive line had their collective hats handed to them against the Patriots, scheme or no scheme. At times, the Patriots defensive front was nothing less than a jailbreak.
In Joe's eyes, this unit bears monitoring. It is the most important element of the team as we inch towards Opening Week.
The Bucs do not (yet) have a strong enough defense to lock down opponents if the offense is sputtering. And if there are no holes to run through, if Josh Freeman has no time to throw and his jersey is filthy from being pounded into the ground, the Bucs won't have an offense.