Tampa Bay "Overextended" Sports Market
August 15th, 2011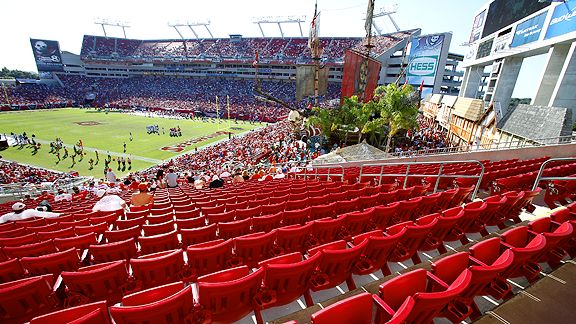 The numbers geeks just can't leave their calculators alone.
In a recent study published by an outfit called "Business Journals," some bored accountant decided to play around with Excel spreadsheet software and determined the Tampa Bay area is the fourth-most extended sports market in the country.
Joe has major flaws with this "study." Unlike the numbers guys, Joe looks at common sense.
This study suggests that the three cities more overextended with sports is, in order, Cleveland, Denver and Pittsburgh.
Joe will be upfront: Joe pays no attention to the filth that is the non-basketball association. If Joe hears the acronym "NBA" he can't turn the channel/station fast enough. Not even the NBA's strippers cheerleaders can get Joe's attention.
(And no, Joe's not calling cheerleaders "strippers.")
Cleveland has zero problems selling tickets to the godawful Brownies and when the Indians are winning, Clevelanders sell the joint out. Cleveland had a years-long streak recently of selling out Indians games. It was impressive.
Pittsburgh at No. 3 is an absolute joke. The Penguins are the model franchise of the NHL and have little trouble pulling in crowds. The Steelers have about as much of a chance of a blackout as the Tampa Bay area has of a blizzard in August.
The Pirates, despite playing in an absolute palace of a baseball stadium, have sucked for decades. The Nutting Family is as awful of an outfit as Hugh Culverhouse. There has been a generation of Pittsburghers that have been born and advanced to adulthood without knowing a winning baseball season. Notice this year when the Pirates began to win, which likely stunned the good people of Pittsburgh, the Pirates were drawing very well?
The fact Pittsburgh is on this list is beyond laughable.
Then there is Tampa Bay. The Bucs win and can't sellout. The Rays win and can't draw flies unless the Yankees, Red Sox or Cardinals come into town. The Lightning, on the other hand, have the past decade been a pretty good draw, win or lose.
If anyone looks at the local housing market and what a dump that is, one really needs to go no further as to why local teams are struggling to get people to walk through a turnstile.
There are other questionable cities listed, but Joe won't bore you further. Just click the link.
Hat tip to WTSP's Noah Pransky.