Raheem Is Sky High On Blount
August 9th, 2011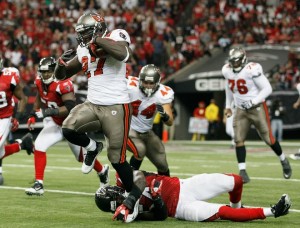 Seeing LeGarrette Blount, Joe thinks the guy looks more fit and menacing than last year. Bigger up top, smaller in the waist, but still a manbeast all around.
Raheem Morris agrees with Joe's assessment, so he told Steve Duemig on WDAE-AM 620 yesterday. The head coach says Blount is "rocked up" and nobody would believe his actual weight.
More important, Raheem was glowing about Blount's work ethic and new-found awareness on third down.
"First off, it's not really imperative that he stays on the field for three downs. But his want to and drive, that I'm really impressed with, him having the ability to come back and really lock in the protections, do a bunch of things right, really not have to start over from scratch again. He took some of that stuff and he worked on it, and came back and you can tell, Raheem said.

"You've seen his body change. He was already a physical specimen, but I've seen him get a little bit heavier, but rocked up. It's a different heavy. If I told you how much he weighed, you'd go, 'No way' because he looks 230. He's a manchild.

"He's taken that and really got into his playbook in the offseason and studied it and just kept doing it over and over again. Whatever he took home with him, his notes or whatever it was. Him being around Josh [Freeman] has helped him out a bunch. So I'm really proud where he's come back at and what he's trying to do for his football team."
Joe's fired up to see Blount get an entire season as the No. 1 running back and mature into an all-around player. And, hopefully, Greg Olson will see fit to pound Blount a bit more on first down, which Olson seemed allergic to at times last year.
In that interview, Raheem also went on to say Blount's situational football smarts are improving.  (Think short yardage in Atlanta.)
For Joe, watching Blount pound the rock and leap tall buildings in a single bound is priceless. Nothing would be better for the Bucs offense than Blount reaching a new level of greatness.