Proof Bucs Didn't Game Plan Against Patriots
August 25th, 2011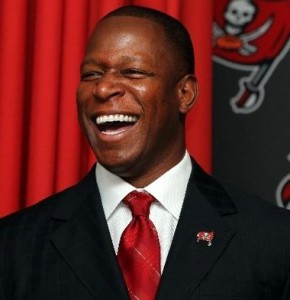 A week ago tonight the Bucs were blasted by New England at The CITS in both teams' second preseason game. Afterwards, Bucs coach Raheem Morris said to the flock of fourth estate members that part of the reason for the lopsided loss was that the Bucs did not devise a gameplan for the Patriots.
Many cynics and Bucs fans scoffed at the suggestion that the Bucs didn't have a  gameplan. Morris tried to explain later how he sets up preseason games each year and that the second game he doesn't game plan.
The explanation did little to calm the nerves of Bucs critics, who thought Morris' words were outlandish.
Well, now Joe can write definitively that the Bucs indeed did not have a gameplan going against the Patriots.
Thursday afternoon, Joe was privy to audio of Morris by way of NFL Films. On the last Sunday of training camp, the Sunday prior to the Patriots game, Aug. 14, Morris was wired by an NFL Films production crew and mentioned there would be no scheme for the Patriots.
In the audio clip, Sunday afternoon practice had just ended. It was the final practice of training camp that was open to the public. The Bucs gathered in a huddle around Morris as is tradition of sorts once practice is over. Morris, in sort of a pep talk to his players which he is so good at, reminds the Bucs they are still working hard to get better and make sure to thank the fans that came out to watch practice.
"This is the last practice that is open," Morris told the team. "Let's go over there and sign, wish everyone well. Thank them for coming. That's who we are. We are still in camp mode. We are still getting better. We are still going good on good. We are not trying to scheme New England."
Those words were straight out of the mouth of Morris, a full four days before kickoff against the Patriots.
So no, the Bucs weren't trying to game plan against New England.
But they will against Miami Saturday.