Peter King Talks To Joe
August 31st, 2011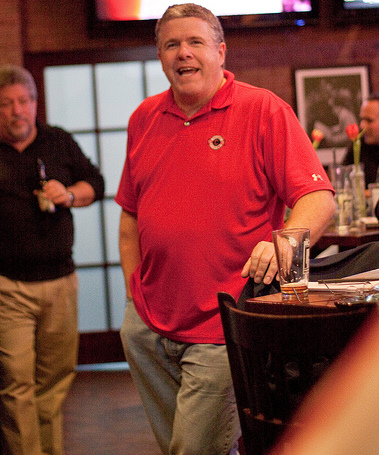 Recently, Joe got a chance to interview vaunted Sports Illustrated NFL writer Peter King. The man is near omnipresent during football season. His Monday Morning Quarterback column on SI.com is a must-read for NFL fans to begin the ugly work week. He also is a devout Twitterer who often holds Tweetups throughout the country . He can also be seen on Football Night in America on NBC and he is a regular co-host of "The Opening Drive," heard exclusively on SiriusXM NFL Radio.
King stopped in Tampa on his multiple-city tour of NFL sites during training camp and the preseason. King was sequestered by the Bucs at One Buc Palace starting his day with a one-on-one with Bucs rock star general manager Mark Dominik at 7 a.m. and continued his day with many Bucs players and coaches.
JoeBucsFan: Your impression on the Bucs thus far after meeting with so many executives, coaches and players?
Peter King: When you basically see a team a day you try to look at the overall team and where they are. To me, this is going to be a great example of a team's scouting department being at one with the team's coaching staff because what they have basically done is take four defensive linemen the last two years in the top two rounds. At the start of the year, it should be [Brian] Price and [Gerald] McCoy if they are healthy and sound and have [Adrian] Clayborn and [Da'Quan] Bowers if they are ready to go. That is as much talent as any team has in the NFL IF Brian Price's weird sort of hip injury and surgery mends correctly and he is able to be the player he was in college and if Bowers' knee can stay fine. It is fine now.
You think of those guys playing in tandem and being coached by a maniac like Keith Millard, especially in the pass rush game, they obviously have a tremendous opportunity to be good for a very long time. That is the first thing that jumps out at me.
If you look at cornerstone players of this team, with the exception of Ronde, every single guy that is vitally important for this team has been here three years or less. You think of Josh Freeman and you think of LeGarrette Blount and you think of Mike Williams and you think of all of those guys on the defensive line.
And again, there are other important players like [Donald] Penn and other guys on the line and linebacker, but to me, what they have built here and tried to build are a very young team with players they view as personally and professionally the long-term cornerstone guys, the way Derrick Brooks and [Warren] Sapp were in the last generation of Bucs.
Joe: Mark Dominik has spoken often of how he wants to build through the draft and is trying to emulate how the Packers and Steelers stock their rosters by building through the draft, a noble goal. But the fans have howled in outrage that Dominik won't go acquire a top-of-the-line starter through free agency — sans a punter — to bolster the roster. Do you think Dominik may be putting way too much emphasis and pressure on guys he has drafted and perhaps the fans could be right in that a starter or two signed through free agency maybe isn't such a mortal sin as some suggest?
King: I think this year is going to tell the tale of that. You will know at the end of this year… look, no team ever bats 1.000 on high picks. One of those guys on the defensive line won't come through with the promise they thought he had. Football odds say that. But if you look at the Steelers, the Steelers have a philosophy both in terms of the kind of player they want and the type of players that fit in Dick LeBeau's defense, so it's admirable to have that trait because what happens is, by the time you have to pay for a free agent to be that guy, he is going to cost a lot of money.
The only other thing I would say is, I think more and more and more in the next few years, free agency is going to be used as Scotch tape instead of big solutions because if you look at what happened this year, 58 percent of all free agents signed — 200 and some odd free agents signed — have been one-year contracts. Usually about two-thirds of the contracts signed are multi-year. This year the majority are one-year contracts and that says to me, A) Teams are not spending in free agency that they once have been at times; and, B) Since the cap is going to be relatively flat in the next two years I think that is what is going to happen unless you are looking for, say, a Charles Johnson, a young defensive end who will be good for the next 10 years and he is on the market or if you are looking for a Nnamdi Asomugha, that is understandable.
But I think most teams are not going to use free agency as the big splash move way. They will use it mainly as caulking.
Joe: If Joe recalls correctly, right before the Super Bowl you wrote a feature on Ted Thompson …
King: Right.
Joe: …the Packers respected general manager, in Sports Illustrated and he summed up his philosophy on signing big-named free agents as "over-aged and overpriced."
King: Well, what happens, traditionally most free agents — and the Packers either got lucky or brilliant with Charles Woodson because he was a seven-year guy by the time he got to them and has been a much better player with the Packers than he ever was in Oakland — most players by the time they become free agents you are paying them as much for what they have been than as what they will be. So you are better off developing your own guys. No team can develop all their own guys. You always need help from the outside but you are smartest by far in developing your own guys and letting the chips fall where they may.
Joe: Do you see any common denominator with the Bucs players, whether it is their personalities or whatever? It seems Dominik is looking for a certain quality or personality. He only drafts guys that are captains with the inference that they are leaders. It seems the guys he drafts are good people, generally good people.
King: I think even the guys who have had check marks or chequered pasts like Mike Williams and LeGarrette Blount are guys when you meet them and talk to them, you like. There is no element of thuggery on this team. I think the smart thing they have done, they have taken the guys at the most important positions and made them good, leader-type people. Josh Freeman is the best example. I was just talking to Freeman about — I learned this from Tony Dungy: When Freeman was drafted, his dad called Dungy and said, "Hey, my son is really young, would you mind keeping an eye out for him, reach out to him once in a while?" And gave him his number.
Dungy talked to him three or four times and said to him, "You can call me any time but you don't need me. You are fine." At the time the kid was 21 years old. I think Freeman is a really good long-term guy to build your franchise around because he wants it so bad.
This is a great time to be a Bucs fan, it really is. You have all of these young guys, and yeah, not all of them will pan out, but they won 10 games last year and no one thought they would win 10 games. And they are set up for the future.
Joe: You have been traveling around in a USO van, talk about it.
King: I was looking a month before training camp started, wanted to find a bus to take to all the training camp sites (though it's not here today) and and a guy from the USO called and said, "Maybe we can help each other out?" The van goes to bases all over the country which don't have USO [facilities]. I've been to maybe 13 or 14 camps with that vehicle.
They brought in troops everywhere we have been and they come and meet the players at each practice and it is fun for the players too. Jim Schwartz had lunch with them. Mike Munchak had 25-airman from Fort Campbell in Kentucky out and have a day with the Titans. It's really been good and rewarding to know that the guys in the NFL really have not forgotten. Many people in the USA have no idea we are in an active war now and the guys int he NFL remember that and hopefully give something to these men to remember and maybe take home with them.