Pat Kirwan Talks To Joe
August 17th, 2011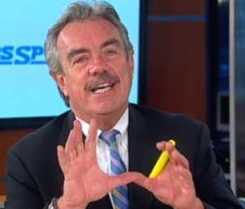 Joe got a chance to chat with SiriusXM NFL Radio's Pat Kirwan prior to him going on the air with his "Movin' the Chains" co-host Tim Ryan, as they broadcasted their show live from One Buc Palace Tuesday as part of the SiriusXM NFL Radio's annual "Training Camp Tour."
Kirwan, a former NFL coach and personnel guy, spent most of the day in counsel with Bucs executives and players trying to learn every nuance of the team before hitting the airwaves. Let's just say from what Kirwan told Joe, he is very bullish on the Bucs.
JoeBucsFan: So, tell us your impressions thus far — Joe knows you've only been able to watch a little of practice.
Pat Kirwan: We've done a lot of interviews thus far. I spent a lot of time with the defensive linemen and there is definitely an excitement about Keith Millard coaching. [The Bucs] made a huge investment in this defensive line; first round picks and second round picks. They all feel that Keith Millard is pushing them hard and bringing them to a place where they can function as a defensive line.
There is a chance you are going to have four guys on that defensive line on certain downs and situations that between the four of them won't have 15 games of pro experience.
I think that is one sentiment that has come out that has been pretty clear to me: I think that with all of their cap space and their young football team that they may do some signings of their own guys or some contract extensions in September and things like that. They have space to do business, they have young talented defensive players.
In talking to them about letting Barrett Ruud go, some of the young linemen are a little nervous because of the way he could recognize what the opponent would do. They still have to get that out of the young linebacker.
Joe: Ronde Barber went on record on local radio noting there have been plays Ruud used to make in his sleep that his replacements — either rookie Mason Foster or Tyrone McKenzie — are missing in practice. Is that going to continue to be a problem?
Kirwan: Think of it as, I just got rid of this veteran quarterback and I am putting in this rookie on opening day. We all would recognize that rookie won't be ready for all the things he has to see. And so I think this is the same thing for Foster. He is going to have to deal with personnel recognition, formation recognition… motion… shift. You really don't want to change what you do on defense. So if you are a team that stunts the front to this set but [the offense goes] to the other set you should change the stunt, you might not think Foster can do that for you.
Now I think they have taken the burden of third down off his shoulders.
Joe: Putting Foster in this sort of position with just a handful of days to learn the defense thanks to the lockout, is that too much pressure on him, is it really unfair to Foster?
Kirwan: Well, they are not going to know until you get into the season because there is not going to be enough preseason tape for them to realize he can or cannot. I think they are very excited that he can. But I think their backup plan is for Quincy to handle the mental aspect for him.
You know Patrick Willis in San Francisco? He still doesn't have the headset [in his helmet], the safety does. So what that means is you want the players to play fast. If he cant handle the play call you give it to someone else. This will be the first time on a team I know that the SAM or the WILL [linebacker] makes the calls.
Joe: Heard you on the Tim Brando Show this morning and you said the teams that had the same offensive coordinator, the same head coach, and had a quarterback in place should be a step ahead of  teams that will be going through a transition because teams had no offseason with their new coaches or quarterbacks. The Bucs have their offensive coordinator still in place. They have their quarterback coach still in place. Raheem is still in place. Josh Freeman will be back for his second full season… Is there a chance the Bucs could make a run?
Kirwan: Yeah, I think they are right in the mix of things. I think that they are right where they left off last year. I think the least of their expectations will be 10 wins. A lot of people say they will win less games because they have a tougher schedule but they will be a better team. If you think about it, LeGarrette Blount carried the ball just 10 times in the first five games and he still was a 1,000-yard back. I think he could be a 1,200-, 1,400- maybe 1,500-yard back. They will be in the hunt because there was continuity in the building. Yet they didn't bang into free agency and go after free agents — in fact they got rid of some veterans. They are younger, that could be the one issue early in the season. I believe by midseason this team is rolling along and is one of the most dangerous teams in the league.