"Paralyzed By Analyzation" And "Roadkill Beast"
August 17th, 2011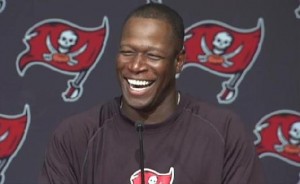 Of course, Raheem Morris was one of the parade of guests on Sirius NFL Radio yesterday when four hours of Bucs heaven descended upon the satellite radio airwaves.
Joe brought you a Raheem take on Luke Stocker yesterday and here are more nuggets.
Raheem clearly was most excited by Gerald McCoy suiting up for his first preseason game tomorrow night. Essentially, Raheem said McCoy is a new man mentally and physically in 2011. "Paralyzed by analyzation" is how Raheem described much of McCoy's play last year. "I can't wait to see him get off and play in a game situation."
Raheem on Mason Foster: He's a sponge. A gym rat.
Raheem On Cody Grimm: The ultimate overachiever.
On Ahmad Black: Out a couple of weeks with ankle sprain. We've got to figure that out. (Don't ask Joe to bet Black makes the roster.)
Tuesday also was the Bucs feature on the real man channel, NFL Network, with Warren Sapp leading the report. You can watch part of it here. It's a classic Raheem interview with Sapp. (Notice Raheem miked up and apparently getting on Ahmad Black.)
Raheem talks a lot about the team being "youngry," using his new word many tims, explains that his greatest challenge is keeping the team from hearing the media say how great they are, and he describes LeGarrette Blount as a "roadkill beast."
Joe's not sure what the hell a roadkill beast is, but Joe likes it. And Joe wouldn't want to have to tackle it.