"Natural Bender" Clayborn Finds Love
August 1st, 2011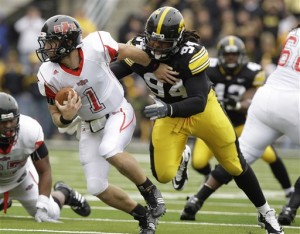 As Joe has written before, Joe can't get enough of watching defensive line coach Keith Millard. The intensity, the raspy voice and knowing that the guy holds an NFL sack record is a magnetic combination.
Dude is just into it. And he's very personable and quotable, which Joe always appreciates.
Speaking to eye-RAH! Kaufman, NFL writer for The Tampa Tribune, Millard talked about his affection for Adrian Clayborn.
It took only a few practice sessions for Millard to size up Clayborn.

"I love him, man," Millard said. "Quick, violent, good hands, natural bender. At Iowa, they wanted their guys to play tight to the blockers, but we need Adrian to get outside to use that quickness."
So what's a "natural bender" that Millard referred to? Joe checked in with former Bucs DE Steve White (1996-2001) for a definition. "It means he has good pad level and he bends at his knees rather than his waist," White said.
Joe suggests you read the entire Kaufman article linked above. Interesting stuff.
Joe's not expecting miracles from the D-line this year, but Joe suspects it won't be because the coaches don't get everything out of them.