Mason Foster Reacts To Personal Foul
August 18th, 2011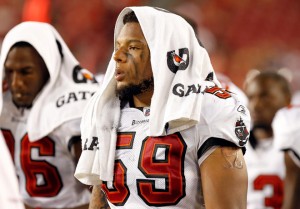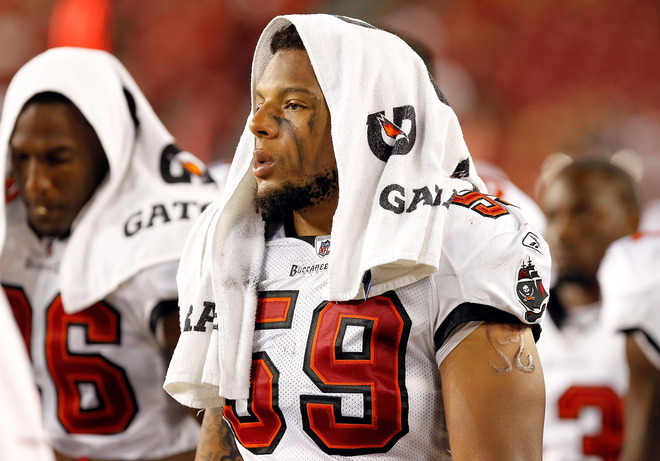 Joe truly has no clue how NFL hatchetman Roger Goodell imposes fines or discipline. It seems pretty willy nilly to Joe.
But Joe's hoping the hatchetman doesn't come down on rookie Mason Foster, whose personal foul for drilling Chad Ochocinco over the middle on the Patriots' second possession was a worthless call simply on a beautiful football play. Joe might say John Lynch would roll over in his grave about a call like that, but Lynch is alive and well calling Bucs preseason games on WTSP-TV, Ch. 10.
Joe didn't hear Lynch's reaction yet, but Foster offered Joe his two cents.
"I can't worry about it becaue I think you just gotta play. I don't think I hit him with my helmet," said Foster, who acknowledged the hit would not be a penalty in college. "[Coaches and Teammates] have been telling me to not let the penalty alter my game. … Hopefully, they don't fine me. I don't have any money yet."
Geno Hayes said he and his teammates will support Foster in every possible way.
"That's a part of the game now. It wasn't a bad hit, but that's the NFL. I don't know if you get used to it or not. If it is a fine, we'd help him out. … Yeah, with money. That kind of call for a rookie can get to you. We won't let that happen."
Foster's hit, sadly, was one of the highlights for the Bucs' first-team defense. He got a little lost in pass coverage on the Pats' first touchdown, but the kid does fly around the field.