Mason Foster Grades An 80
August 16th, 2011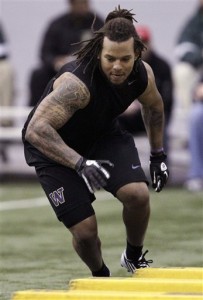 So what did Mason Foster really do out there Friday?
Sure, every fan saw Foster fall on a fumble and aggressively drive a backup quarterback out of bounds on a third down. But what about the rest of the film? Raheem Morris filled in Bucs fans on The Steve Duemig Show yesterday on WDAE-AM 620. 
"[Foster] played about 10 or so snaps on defense. He played a bunch on special teams for us. He was able to go out there and he had two minuses: he missed one run fit maybe because of me and a call, and then the other one he missed something else and graded about 80 percent," Raheem said. "He was able to go out there and get the fumble and made a big third-down stop on the quarterback. He had a pretty productive day. And he did the things you want to see him do on the first day — play physical and play fast. If you get those two things out on the first day, then you've got a chance."
Raheem went on to explain that Foster was almost the opposite of Gerald McCoy playing early last year when McCoy tried to play "too smart." Raheem said he ordered Foster to "make full speed mistakes" and got what he requested.
With a little bit of apprehension in his voice, Raheem said he'll free up Foster to play in some nickel situations against New England on Thursday. So fans should see much more of him.
Hearing about Foster's grade made Joe think of Barrett Ruud talking about his perfect scores. It's unfair to compare the two, but it'll be an interesting sport nonetheless through the season.