It "Appears" Trueblood Locked Up Starting Job
August 22nd, 2011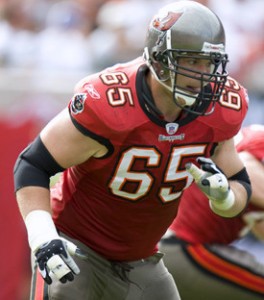 There was a rule of thought among many Bucs followers that Jeremy Trueblood was either gone from Tampa Bay since his contract was up, or at best would return as a reserve.
It could be argued that James Lee, who replaced an injured Trueblood late in the season, played better than Trueblood and that the offensive line as a whole played better late in the year.
But anyone wanting to shovel dirt on Trueblood's grave better walk back to the tool shed. eye-RAH! Kaufman brings word via the TBO Bucs Twitter feed that it "appears" Trueblood has won his starting job back.
Jeremy Trueblood appears to have regained his starting RT job for the Bucs, beating out James Lee. The OL needs to rebound vs. Miami.
There are two major areas of concern for Joe with this season's Bucs. The first, and perhaps most important, is the offensive line. The second area of concern is the rush defense.
If Josh Freeman has a filthy jersey by halftime like he had against the Patriots, if LeGarrette Blount has no holes to run through, this will be a very long season. The Bucs simply don't have a stout enough defense to lock down opponents if the offense is stuttering.