"How Does A Team Fight Regression?"
August 8th, 2011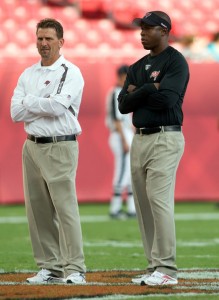 Joe's already smelling low expectations from some fans and media for the 2011 season.
Sorry, but Joe doesn't play that game. Joe's not in the corner where people sit around all giddy and hold hands and say the Bucs likely will and probably should take a small step backwards this season — all part of the grand plan to grow happily toward a Super Bowl contender.
Sadly, Joe thinks a lot of those folks are the ones sitting on the sidelines waiting to buy tickets when they perceive the team is really good.
Joe's heard the attitude from sports radio callers, sports radio hosts, commenters here, and throughout Joe's travels. Frankly, that's not what the NFL is all about. You can't go 10-6 with a young team and not demand at least as good or better the following year as a fan, an observer, or as a member of the organization.
This isn't a Girl Scouts hopscotch tournament or some panzy youth soccer league where the result isn't as important as progressing toward a goal and personal growth.
Joe's not saying the Bucs missed the boat passing on free agents outside of a punter. Joe's fine with the team plan, but winning has to be a part of it. It is, if you listen to the Bucs, and fans should join the team in demanding greatness.
What set Joe off was hearing esteemed columnist Gary Shelton of the St. Pete Times ask Raheem Morris today to open the coach's news conference, "How does a team fight regression?"
Joe likes and respects Shelton — the two had some bonding time together this offseason — but what the hell kind of question is that? It's almost ridiculous. Joe gives Shelton the benefit of the doubt. Perhaps he was trying to bait Raheem into a unique answer. Raheem didn't really answer and simply said everyone is hungry.
Joe's hungry, too. For a team that's better than last year's.