His Technique is "Get Out Of The Way"
August 15th, 2011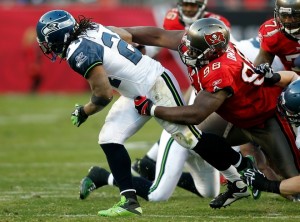 Frank Okam throws up reps on the bench press over 500 pounds. And his weight isn't that far behind. Joe refers to other players as manbeasts, but frankly only Okam is the real deal.
Today, Raheem Morris showered Okam with love and admiration to the Bucs press corps, calling Okam a refrigerator in the most loving way possible.
"He's been moving bodies. He's different than we've ever seen in Tampa. He's different than we've looked for over the past couple of years with the quickness and the quick-twitch. He's kind of the, I don't even know what his technique is. It's just, 'Get out of the way.' It works for him. And I like it," Raheem said.

"He's certainly in the mix to play. He is 350. (laughs)  Maybe. He's just a big man. He doesn't get tired. Man, I don't know. He's one of those guys. Is he out of shape? Then you look at him and you're like, 'No. No. He just looks like a refrigerator.'

"There's no stomach. Look at him. … He's not fat. He's just big."
Listed at 6-5, 350 pounds, Okam's in that mold of serious football player out of the University of Texas, along with Tim Crowder and Roy Miller on the defensive line. And Joe can attest that the man is a mountain and exceptionally articulate.
Okam's another Mark Dominik scrap heap find snatched up last year who played very well in the Bucs' final two games. Frankly, Joe's not seeing how Miller is a better player.