Gerald McCoy Honored By Warren Sapp Visit
August 11th, 2011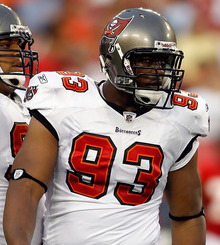 Since he finished his college days at Oklahoma, Gerald McCoy and former Bucs great Warren Sapp have been tight.
It's not just because the two are (or in Sapp's case, was) defensive tackles. It's not just because both were first round draft picks of the Bucs. But it's because GMC idolized Sapp as a youngster, even told Larry Coker he would play for the Canes if Sapp would call him.
Coker never followed up on the request and GMC went to Norman instead.
Because of GMC's respect, Sapp took GMC under his wing and has personally worked out with GMC. Now, with Sapp's hand-picked defensive tackles coach Keith Millard working with the Bucs, Sapp is even closer to the team.
Yesterday Sapp sat in on a defensive line meeting and spoke with the defensive lineman. GMC made sure he paid homage to Sapp on Twitter.
@Geraldini93: Good work with @QBKILLA today. Schooled us in the meeting room and on life. "Worst 3 Words you can say is "I Got It" you never have it." … Keep working. Witnessed greatness. @QBKILLA true professional. True legend!! Future HOF. Much love for the knowledge. Buying into all of it!
Joe has written this before that he believes Millard will make great strides with GMC. Per GMC, he already has.
With Sapp also counseling GMC, how exactly can GMC go wrong?