Bucs Happy With Win… Over Roger Goodell
August 29th, 2011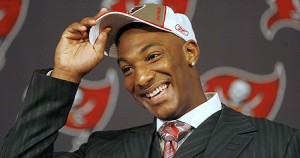 When news got out about a week ago that troubled Bucs cornerback Aqib Talib was summoned to the chambers of NFL warden commissioner Roger Goodell, it didn't look good for Talib.
Then, when good guy Maoist Michael Silver published a report on Yahoo! Sports revealing that in the final minutes of the asinine lockout, NFLPA frontman DeMaurice Smith sold out Talib and a handful of others in a last-minute cave in order to bring the asinine lockout to an end, it looked even worse.
So when Bucs rock star general manager Mark Dominik broke news in the press box of The CITS Saturday that Goodell had decided not suspend Talib for the 2011 season, it was very much a surprise to many if not all Bucs fans.
While the Bucs beat the Dolphins just hours later, the Bucs were celebrated the win. No, not on the field, but for Talib's newfound freedom, so reports Anwar Richardson of the Tampa Tribune.
"It's good for Aqib," cornerback Ronde Barber said. "How the legal system plays out next year, I'm sure we'll revisit it then. Aqib is a heck of an asset to our football team.

"You hate that he gets in trouble sometimes. It being over helps everybody. We can stop talking about it, though I'm sure (the media) will find a way to continue talking about it. We just want to get moving on. I know he wants to get moving on."
The key issue is that Talib will not be suspended this season. If Talib skates in his court case in Texas, he likely will have nothing to worry about. If he is found guilty, he not only will have to face a Texas judge but Goodell again, who at times makes a Texas judge look like a priest in a confessional.