Barrett Ruud Groomed His (Possible) Successor
August 3rd, 2011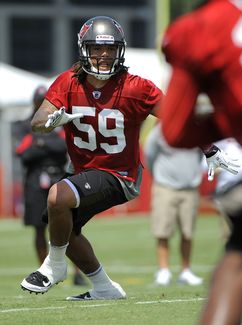 Yeah, Joe already touched on this but Joe has a different perspective on the issue.
With the departure of Bucs leading tackler and middle linebacker Barrett Ruud, Bucs rock star general manager Mark Dominik has all but handed the open position to rookie Mason Foster.
In answering a question from former Bucs offensive guard and current WDAE-AM 620 sports personality Ian Beckles Monday, Dominik was confident Foster — who played outside linebacker last year at Washington — could handle calling plays in an NFL defense at middle linebacker.
Joe's a big fan of Dominik, obviously, but Joe also has to be fair and balanced and while Foster with a little grooming very well could make Bucs fans forget Ruud, to expect a rookie with zero OTAs or minicamps to learn an NFL defense and opposing offensive tendencies in five weeks simply scares the hell out of Joe, and should any sober fan.
But as the great Lee Corso would say, "Not so fast my friends."
There's this Bucs linebacker by the name of Tyrone McKenzie who, reading the tea leaves this summer that Ruud was done with the Bucs (or more precise, the Bucs were done with Ruud), McKenzie flew to Ruud's native Omaha and Ruud and McKenzie pored over game tape to help get McKenzie get up to speed on the Bucs defense, so Joe's good friend Jenna Laine of NFL.com detailed.
With no film room to work with in the off-season, McKenzie flew up to Nebraska to meet with Ruud. The two went over tape in a hotel lobby. The former New England practice squad member says he's ready to take over the defense, if asked.

"That was huge. Getting out there really helped me out," says McKenzie, who now calls the plays for the defense. "Barrett is just a great guy. Just to sit down there and talk football with him, after this whole off-season, not talking football with anybody but myself, it was great to out there with him and talk football."
Go ahead and scream that Ruud couldn't shed a block in the Lingerie League if it makes you feel more of a man. But Ruud had to know his days as a Bucs linebacker were over or damned near over. Yet he took the time to help groom a soon-to-be former teammate take over his old job.
That my friends is a class act.