Arrelious Benn's Hard Rehab About To Pay Off
August 27th, 2011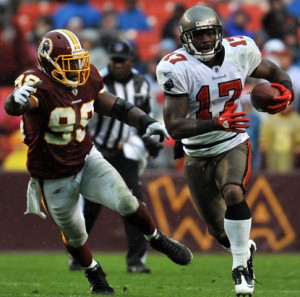 Last year wide receiver Arrelious Benn had a slow start. Understandable, coming from one of those garbage high school spread-option offenses at Illinois.
Just when Benn turned the corner and was making an impact, he blows out a knee.
During his rehab, laid up, unable to walk yet much less run, what did Benn do? He had his brother throw him passes when he couldn't even get on his feet so he could work out in some manner.
That's the word from Woody Cummings of the Tampa Tribune.
He was off the couch and back on a football field near his Washington D.C. home sooner than doctors and team trainers thought; sooner, perhaps, than they wanted.

"I was doing things during the lockout that I wouldn't tell the trainers I was doing," Benn said. "I did a lot of little things on my own just to keep my body going and keep it right."

The results are visible. The 6-foot-2, 220-pound Benn is thicker through the chest and shoulders than a year ago and running so well [Bucs wide receivers coach Eric] Yarber often can't tell which knee was injured. For the record, it was the left.
Joe thinks that Benn coming Back healthy is a very big thing for Josh Freeman and the Bucs. With Mike Williams, Kellen Winslow, Dezmon Briscoe, Michael Spurlock and Benn, that gives Freeman all sorts of dangerous toys to play with.